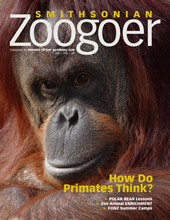 Some of our work has been featured in national and international press outlets.
Zoogoer magazine has just published a report on Dr. Subiaul and his research activities in the National Zoo.
Our study in Animal Cognition on chimpanzee's ability to learn from others appeared in the following news magazines: Science Daily News, Medical News Today, Biology News, and the Times of India
Our work on cognitive imitation in monkeys has appeared in a number of news outlets including: Science Now.
A profile on Dr. Subiaul by The George Washington University Magazine ByGeorge: http://www.gwu.edu/~newsctr/newscenter/research/subiaul/index.cfm